The Network Setup settings page, accessible from Settings, allows you to:
override default DNS settings if needed
switch between DHCP (default) or a static IP address
configure Ethernet speed for LAN connection if auto-negotation does not work (typically only necessary in rare cases with specific network switches)
configure auto-reconnect interval for DHCP connection if necessary
configure the hub to connect via Wi-Fi instead of Ethernet (supported models only)
These settings are only available on hub model C-5, C-7, and C-8. Earlier models do not offer the below configuration.
To override the hub's default DNS settings, expand the Override DNS Settings section and enter one or more DNS server IP addresses under DNS name servers override, comma separated. To use multiple DNS servers, separate the IP addresses with a comma.
For example: 8.8.8.8, 8.8.4.4, 1.1.1.1, 1.0.0.1, 9.9.9.9
To configure a static IP address, expand the Switch to static IP section, then:
Enter the desired static IP address for your hub, the default gateway, and DNS servers. (The subnet mask cannot be changed for static IPs via the user interface, but the defafult is applicable for most home networks. Advanced users can change this setting as described in Advanced Network Settings. )
NOTE: We suggest using a DHCP reservation on your router instead of this option, as it does not require any special confguration on the hub, leaves little room for error, and gives a similar result. Having a non-changing IP address — however it is done — can be helpful, though neither is required.
If assigning a static IP, ensure it is outside the DHCP range for your router and that you know what other settings are appropriate for your network. Incorrect settings can cause your hub to be unable to connect to the Internet or an inability for you to connect to your hub on your own network. A network reset may help you re-gain access if needed (see below).
Select Save and switch to static IP.

You must reboot the hub for the changes to take effect.
NOTE: Static IP/DHCP configuration applies to the built-in Ethernet port only. Wi-Fi will always use DHCP.
If you are accidentally blocked from accessing your hub due to an incorrect or unknown IP address setting, turn the hub over and use the point of a pen to press the small button just beneath the surface of the hub casing for at least 7 seconds.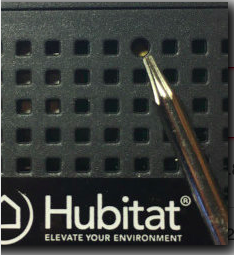 To change back to DHCP (and let the router assign an IP address to your hub via its MAC address), expand the Switch to DHCP section, select the Switch to DHCP now button, and reboot the hub the hub from Settings.
Hubitat model C-8 includes built-in Wi-Fi. Models C-5 and C-7 can also connect via Wi-Fi by adding a compatible adapter.
Expand the Wi-Fi Settings section, then select the network name (SSID) and enter the password for the Wi-Fi network you want the hub to join.

Select Join Wi-FI Network to connect.
Expand the Wi-Fi Drivers section, then select the Install Wi-Fi drivers button. Ensure the installation succeeded (you will see a note on the page) before continuing.


Shut down the hub.

Connect a USB OTG + power cable (not included) to your hub. This type of adapter cable feeds power to the hub while simultaneously providing a USB data connection for USB devices. An example:

Plug a compatible Wi-Fi adapter into the USB port on the OTG adapter cable. A list of known compatible adapters is provided on the Network Settings page. The TP-Link Archer T2U Plus is likely to have the best range among the supported options and is recommended if the size of the adapter is not a concern.

Plug in the micro-USB power cable to the port on the OTG cable. The hub will begin booting.
NOTE: For maximum reliability, connect Hubitat Elevation to your network with an Ethernet cable rather than Wi-Fi if possible.
If you have configured Wi-Fi and want to restore hub connection via Ethernet:
Plug in an Ethernet cable, connecting the hub to your router or network switch.
Select Disconnect Wi-Fi under Wi-Fi Settings. (Connecting an Ethernet cable will not automatically disconnect Wi-Fi.)
Model C-5 and C-7 users will additionally need to:
Shut down the hub from Settings.
Disconnect your USB Wi-Fi adapter (and the special OTG + power cable if desired).
Unplug your hub from its power source for a at least 30 seconds, then plug it back in. (Unplugging from the wall side is recommended to avoid stressing the micro-USB connector.)
Some settings are currently not available via the UI but can be changed via HTTP endpoints if needed. Modifying these settings is not recommended for most users. Use caution, and only modify settings that you understand and know are necessary on your network.