The Add Device page allows you to add Z-Wave, Zigbee, or virtual devices to your hub, a process sometimes known as inclusion, pairing, or discovering. Some other devices, such as Lutron and the Philips Hue Bridge, are connected using integration apps which can be found on the Apps page instead.
Remember that as you connect Zigbee and Z-Wave devices, they will have a limited range. If they are too far from your hub, you will need to add repeating devices (devices that plug in to the wall or are AC/mains-powered) to make the connection. See How to Build a Solid Zigbee Mesh and How to Build a Solid Z-Wave Mesh for more.
Here's how to add new Zigbee or Z-Wave devices:
Select the Devices menu item from the sidebar, then select Add Device in the upper right:


Select Find by device type (to see compatible devices sorted by type, like dimmer or motion sensor) or Find by brand (to see compatible devices sorted by manufacturer/brand), then continue following the prompts to find your specific device.

Pairing or inclusion instructions will appear on this page for most compatible devices. Consult your device manual if available, as instructions may vary slightly between hardware or firmware revisions of similar devices.


Alternatively, select one of the buttons under "Add a device manually" according the appropriate protocol: Z-Wave, Zigbee, Iris V1 Zigbee (hub models C-7 and earlier only), or Virtual.

Put your device in paring or inclusion mode (if not virtual), according to the device-specific instructions presented in step 2 or the ones included with your device, and follow the prompts.
NOTE: Whether you search by type/brand or manually start pairing or inclusion based on device protocol does not affect the outcome of pairing (as long as you choose the correct protocol if doing so manually). For example, if you have Zigbee device and already know how to pair it, it may be fastest to simply manually select "Zigbee" than to find the brand/model in the menus.
Non-secure Z-Wave devices will include without any additional action required. Devices that support Z-Wave S2 security will prompt as described below. (Devices that support security but only the older S0 security will also not prompt, and they may pair either securely or not, depending on what the device requests. It is recommended to avoid S0-only whenever possible. These prompts will also not appear on C-5 or older hubs, which do not support S2.)
For Z-Wave devices that support S2, you will see a security popup shortly after pairing begins asking if you want to include with or without security. Choose your desired option:


If you choose to continue with security, you will be prompted to either enter part of the device-specific key (DSK) or confirm that the code you see matches the device, depending on the type of S2 used. This code can usually be found on a sticker on the device or in the packaging.

If you have a Z-Wave device that will not include or was previously joined to and not removed/excluded from a previous network, try a general Z-Wave exclusion with the device first. You may also need to try this if a previous attempt at including the device to Hubitat failed.
To do this, select the Z-Wave button or use the Find by... buttons to locate your specific device. Then, select the Start Z-Wave Exclusion button, and put your device in exclusion mode (usually by pressing or holding a specific button or combination of buttons on the device; see the manufacturer's instructions). If successful, you should see a message "Unknown Z-Wave Device was excluded." This means this device no longer is associated with a previous Z-Wave network and can now be paired with Hubitat Elevation.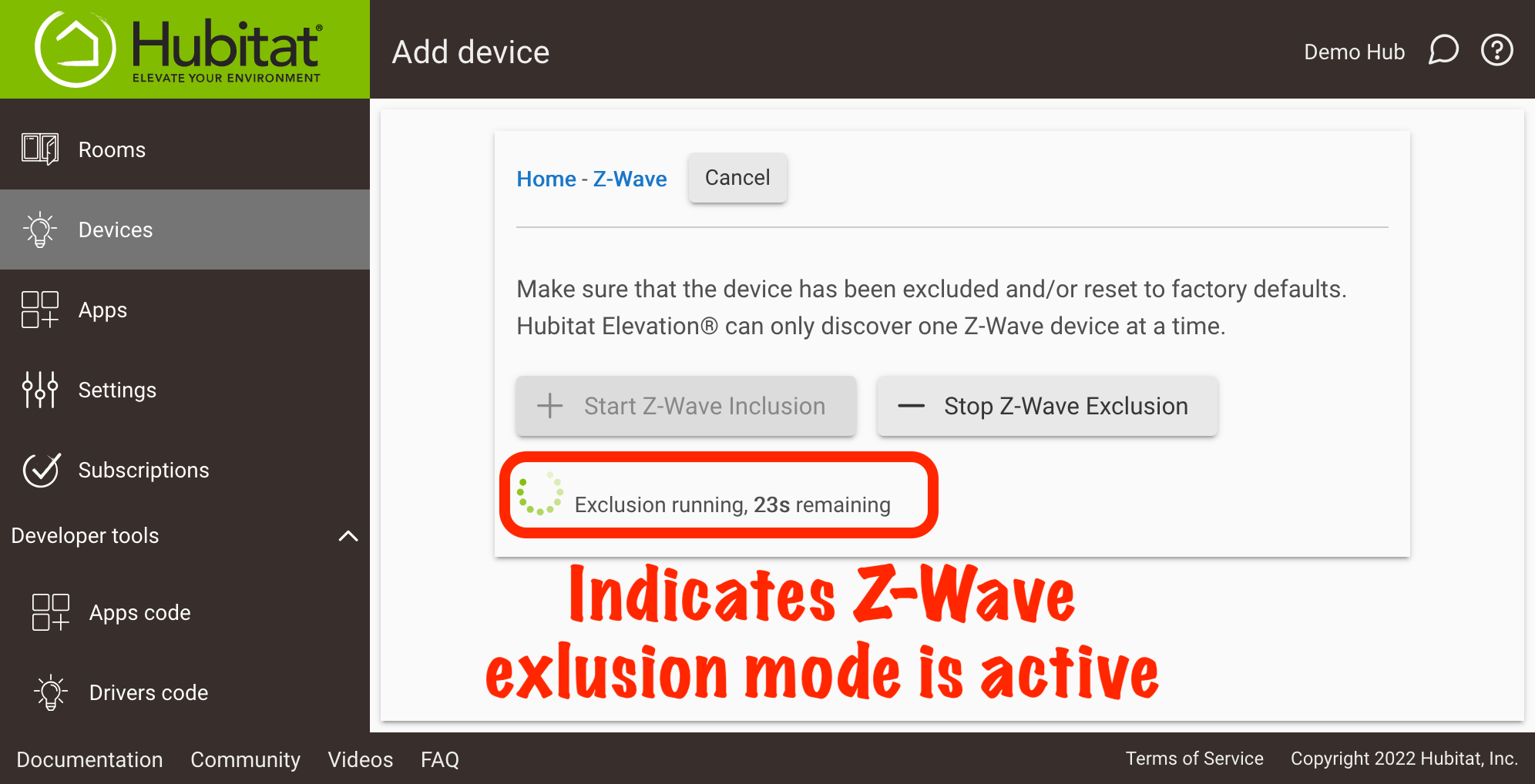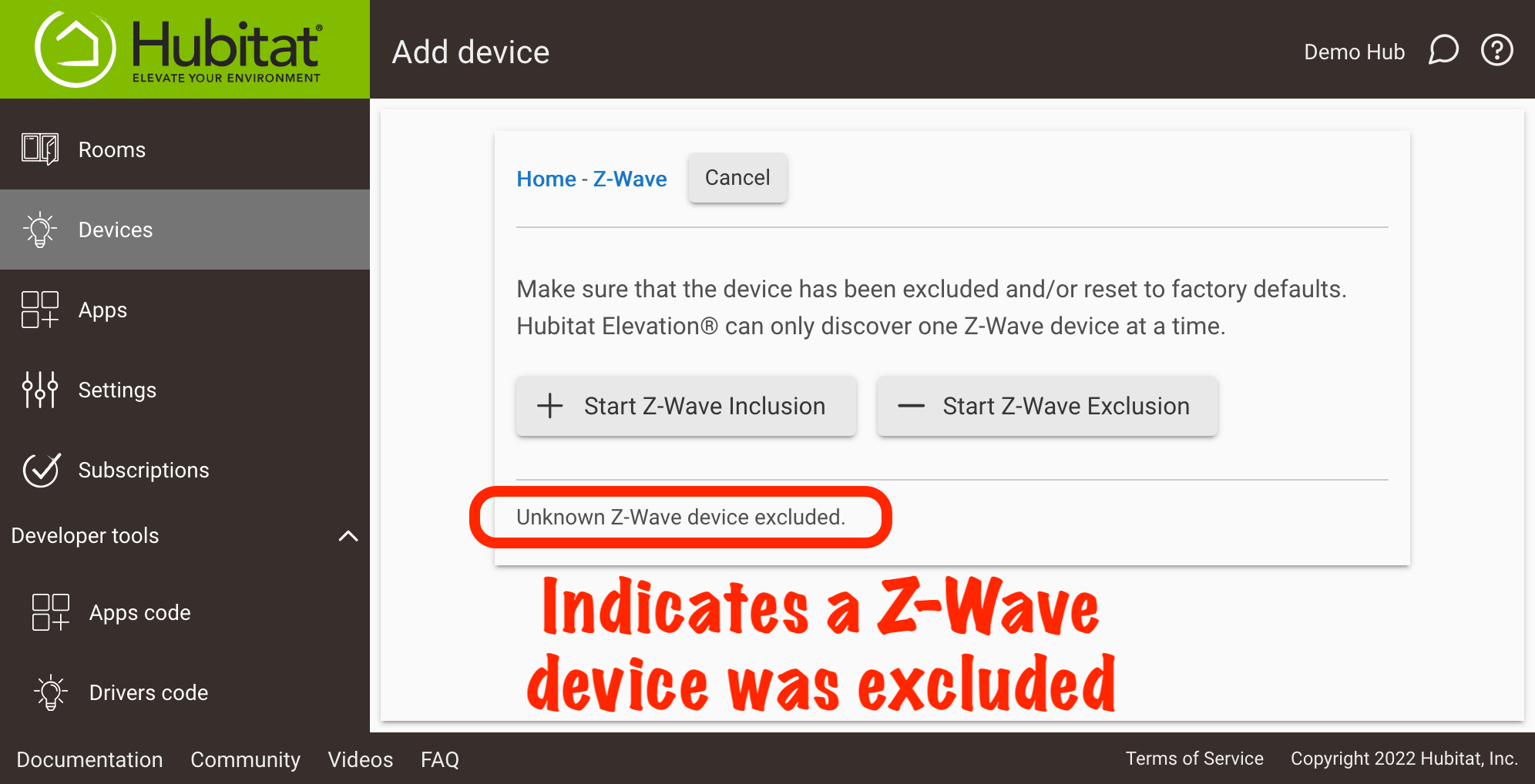 Only one Z-Wave device can be added at a time. To add another Z-Wave device after adding one, simply start the process described above over again or use the Add another device button that will appear after you finish setting up one device.
For Zigbee devices, the hub will present a Start Pairing button after you select a Zigbee device from the Find by... wizard or press one of the two manual Zigbee type buttons. The Start Pairing button will put the hub in Zigbee pairing mode for 60 seconds. You can stop it at any time by pressing the Stop Pairing button (which will replace the Start Pairing button while pairing is active). It is recommended to pair only one Zigbee device at a time.
Model C-8 users will see additional pairing options that can be used if regular pairing fails. Reset the device and try again with one of these methods if needed:
Pair while trying to avoid Zigbee 3.0 repeaters: try if a device appears to have been added correctly but is unresponsive and does not display any attributes under Current States on the device detail page.
Pair while exchanging keys in clear: try if a device is discovered but remains stuck on "Initializing..." after the regular countdown expires. This is a less secure method but may help older devices pair. (This was previously labled "legacy pairing mode.")
NOTE: "Iris V1 Zigbee" is a Zigbee pairing method that is also available (on model C-7 and earlier hubs only) and intended only for Iris V1 Zigbee devices. This is the generation manufactured by AlertMe and is not intended for Iris V2 or V3 devices (manufactured by CentraLite or iMagic by GreatStar). These devices should use standard Zigbee pairing.
After the hub discovers your device, you can give it a "label," or a friendly name that you can use to identify the device. This how it will appear in apps and logs, and it will also be used as the most prominent name on the Devices page if provided.
After providing a label, you can optionally assign the device to a room. This will appear in Rooms in the left-side of the hub UI, be listed for status or control in the Devices tab of the mobile app for supported device types, and allow easier configuration with certain apps that offer room-based selections (e.g., Room Lighting).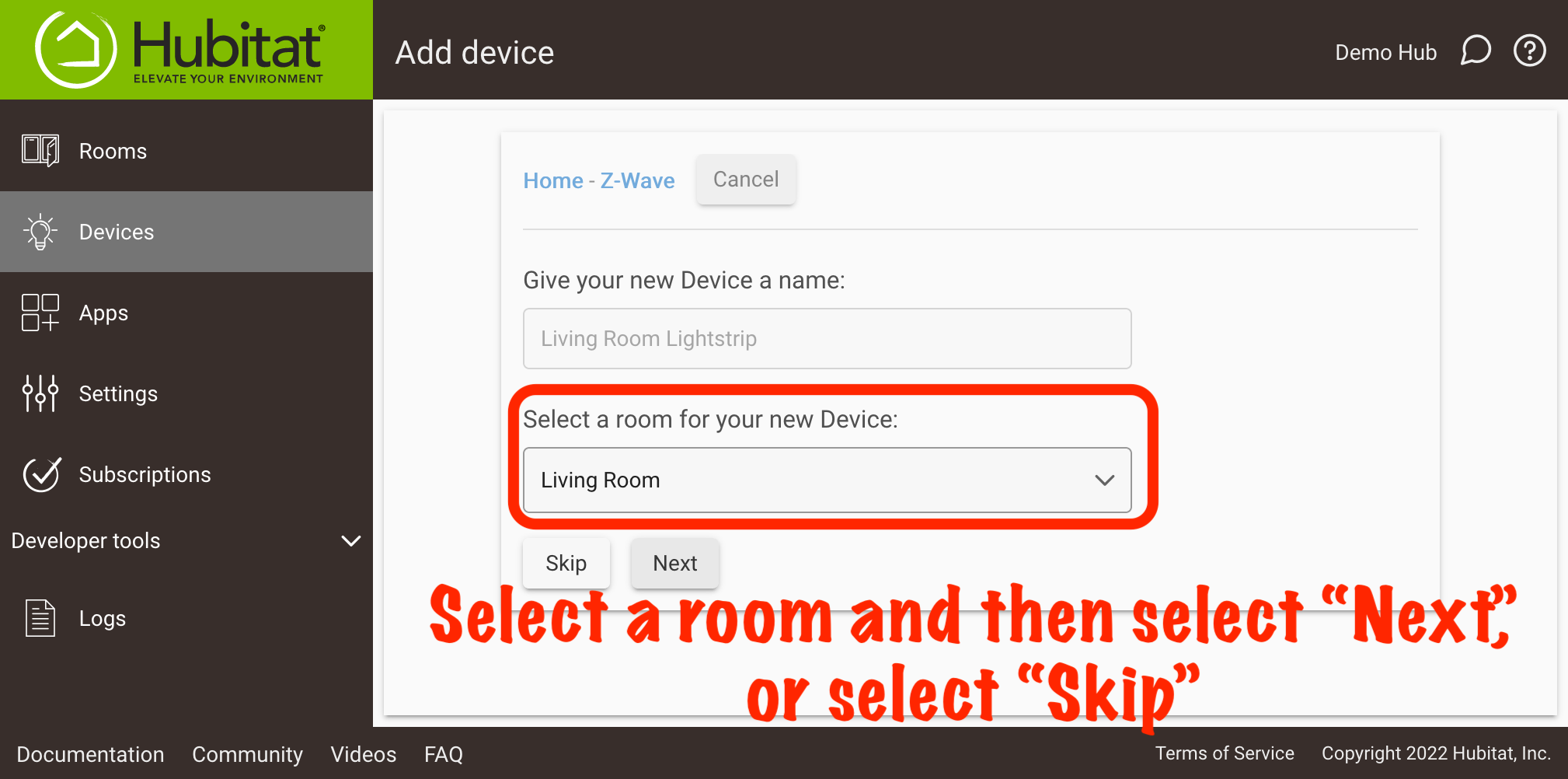 Virtual devices are useful as "simulated" devices that do not correspond to a real/physical device. For example, a virtual switch device using the "Virtual Switch" driver allows you to send on() and off() commands to the device and have the switch state update as expected, simulating the behavior of a "real" device without actually doing anything. This can be helpful to test app behavior without needing to rely on a real device.
Some LAN or cloud devices can also be manually created like "virtual" devices using a specific driver and setup instructions provided for that device or integration.
If you have trouble adding a device, here are some potential culprits:
Is your device compatible? Hubitat Elevation includes Z-Wave and Zigbee radios that work with a wide variety of Zigbee and Z-Wave devices. Check our list of known compatible devices. Devices running on different protocols, such as the Lutron or Philips Hue Bridge, are added using an integration app, not via the device discovery process on this page.
Is your device out of range? Z-wave and Zigbee radios have a limited range that is further reduced by obstructions, including metal, wood, concrete, plaster and drywall. It is important to build out a mesh network that includes plugged-in or AC mains powered devices that act as repeaters and boost the range and signal strength of your hub. Battery operated devices do not function as signal repeaters. If you have Zigbee bulbs, see also the note below.
Is this a Z-Wave device from another hub? Unless it is a new device (and even then, this is still good troubleshooting), Z-Wave devices must be excluded from their previous network before they can be included on a new network/hub. Ideally, you should perform a device exclusion and a factory reset before attempting to include the device on Hubitat. If the procedure to factory reset is not available, then you should at least perform a general exclusion as described above.
Is your device in inclusion mode, pairing mode, etc.? All devices are different. Check the device manual to make you have followed the proper procedure to put it in inclusion mode (for Z-Wave devices), pairing or setup mode (a term sometimes used for Zigbee devices), or possibly have reset the device (sometimes the means by which Zigbee devices are put into pairing mode).
Did your Z-Wave device fail to be included properly? Run a general Z-Wave Exclusion (see above), then try joining it again.
Is the device battery dead? Try again with a fresh battery.
Are there Zigbee bulbs interfering? Certain Zigbee bulbs may interfere with the routing of the Zigbee network traffic (many have problems acting as repeaters for anything other than other bulbs and can cause problems when attempting to repeat for other types of devices; Sengled is one brand with non-repeater light bulbs that are therefore not subject to this concern). If you're having trouble with Zigbee device discovery, try temporarily removing nearby bulbs to see if this alleviates the issue. See the How to Build a Solid Zigbee Mesh and How to Build a Solid Z-Wave Mesh documents for more details.